Hello, dears!
I recently posted a tour of my main sketchbook, but I also have a couple of other sketchbooks I've been working on since… goodness, I think this was the last post I did on them, which… OH MYYY, I just realized it's been one year to the day since that post! Ha, goodness! So anyway, I thought it was high time to give you guys a peek into my Illo sketchbook and some other drawings I've made recently(ish). 🙂
As always, I hope this post can give you some inspiration to create your own art if you like drawing – or simply brighten your day with pretty pictures if not. 🙂 I'll also try to link the supplies I used if you want to try them out for yourself. Enjoy, my friends!
NOTE: This post includes affiliate links. If you purchase something using my link, the price won't change for you, but I get a small commission for advertising and you get to support this blog for free! 🙂
Let's pick up where we left off with this Posca pen painting from last fall. I try to use my Illo sketchbook for finished art rather than filling it with draft sketches (which I save for other sketchbooks), but, as you can see, the "finished artwork" is sometimes more like doodles. 😉
Here's a mock album cover design for one of my favorite artists/bands, Switchfoot. Again, made with fine-tip posca pens.
I decided to try something different and made this slightly lopsided but fairly realistic ornament last November, using colored pencils, a white gel pen, and gouache paint. 🙂
I also got into collage about this time, I think, and enjoyed filling a page with peaceful, warm magazine pictures and paper elements. Something about the collage process is so relaxing, ahh.
If I remember right, I picked out all the the pink/purple/peach markers I had (excluding Crayola) for this portrait. That's a fun way to inspire or prompt yourself to make art!
More Christmas art. This took a lot of time, phew (and white gel pen ink). I really like how it turned out, though! It was fun to make a "double exposure" sort of picture with the magi riding their camels on an actual camel. 😛
I'm really proud of this as well, despite the mistakes. I wanted to paint something showing how people's words are often just the tip of the iceberg. The line to her mouth represents what we actually say, but there's often a mountain of what we mean piled on top, and a deep iceberg of fears and joy and memories underneath. You know? I painted this with gouache as well.
My sister let me borrow her new Tombow markers, which I tested with this ombre lettering.
Ooh, these were so fun to make! I looked up some references and made a bunch of colored pencil + watercolor face studies. I love how they turned out, for the most part! 😀
I made this one inspired by an Instagram challenge/prompt with the word "dreamy" or something like that. This is gouache paint and white gel pen again. 😉
A similar style, but this time I made it with Posca pens instead of gouache paint.
I love this Jane Austen quote and wanted to do some typography with it. It got rather cramped, but I like the concept! What's one of your favorite quotes?
Painting "Starry Night" seems to be a common thing to do as an artist, so… I did it. 😀 Heh, I actually did this while preparing for one of the art classes I'm teaching right now at a local homeschool academy. It's obviously much less detailed and, well, less masterful, than Van Gogh's, but it was fun to simplify it and still be able to tell what I was going for at the end.
Another painting to prepare for my younger art class. This one was fun because it's a lot easier than it seems. Just get some acrylic paint and an old, stiff paintbrush and use the texture to make the art for you. 🙂
I discovered I enjoy making Posca pen paintings in this style. I love the bright yet harmonious colors here.
I painted this as the new profile for my Instagram page, which you can find @thecolorboxstudio. I'm happy with how it turned out, especially because I looove the colors and watercolor texture. 🙂
Aww, here's a fluffy little penguin to cheer you up. Or be grumpy alongside you, if necessary. Or maybe just very, very tired. 😛 I think this pencil sketch turned out adorable!
Welp, that's my selection from the Illo sketchbook at the moment. Now for some miscellaneous sketchbooks, like a colorful sunset galaxy from this watercolor one.
I've painted almost this exact same picture so many times by now for various art classes and personal practice. And I still have a huuuuuge way to go in painting water, quite obviously. Not one of my strong suites. 😛
Here's a whimsical little village I also drew with my art students and finished later. Isn't this style so fun?
Guyssss, I got out my toned paper sketchbook again recently because IT'S INKTOBER! I nearly forgot about that challenge this year, but I'm excited to do it again! Be on the lookout for a sketchbook tour in November, but here are a couple of pencil sketches meanwhile. It can't be an art post without an eye drawing, now can it? 😛
My art tutoring student and I were practicing drawing from life the other day, so I made this sketch in preparation. And I'm happy to say that I brought two lightbulbs on a 50 minute drive and safely into her house without breaking either of them. 😀
Now, before I end this post, I have two new Etsy products for you! I literally just added two new envelope sets, including this doughnut one. *licks lips*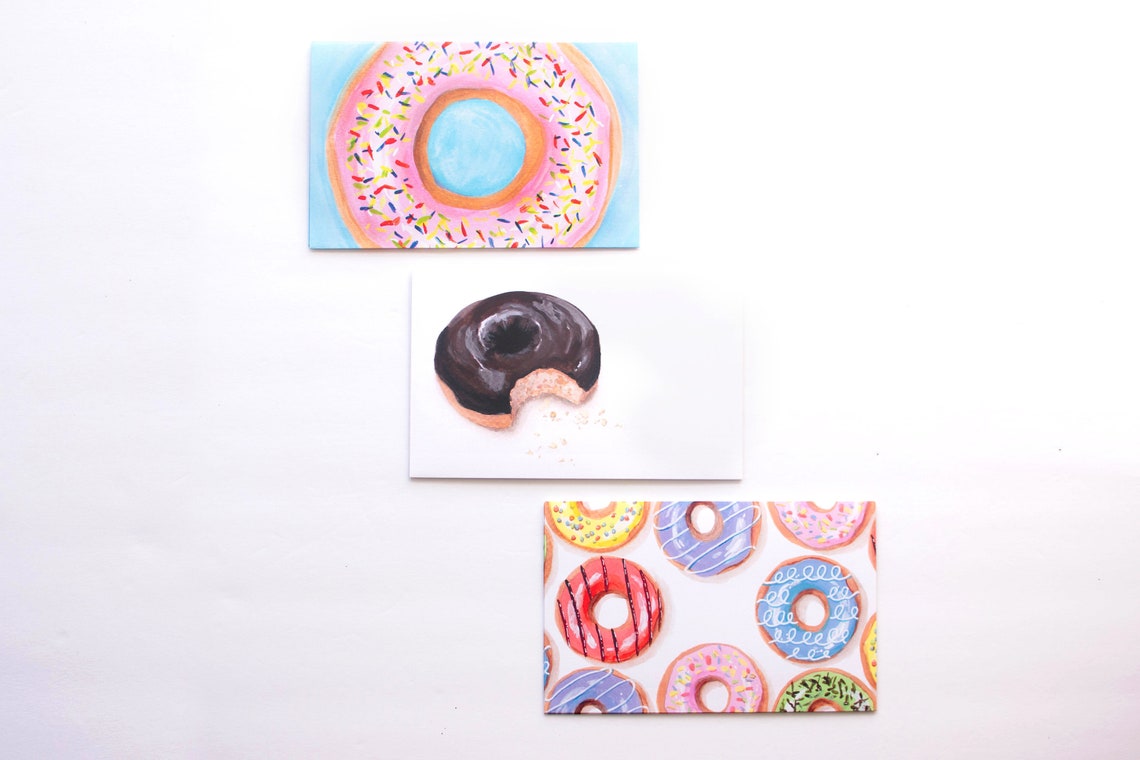 This is one of my new favorite envelope sets! I love nature – flowers and mushrooms especially – so that could be why. 🙂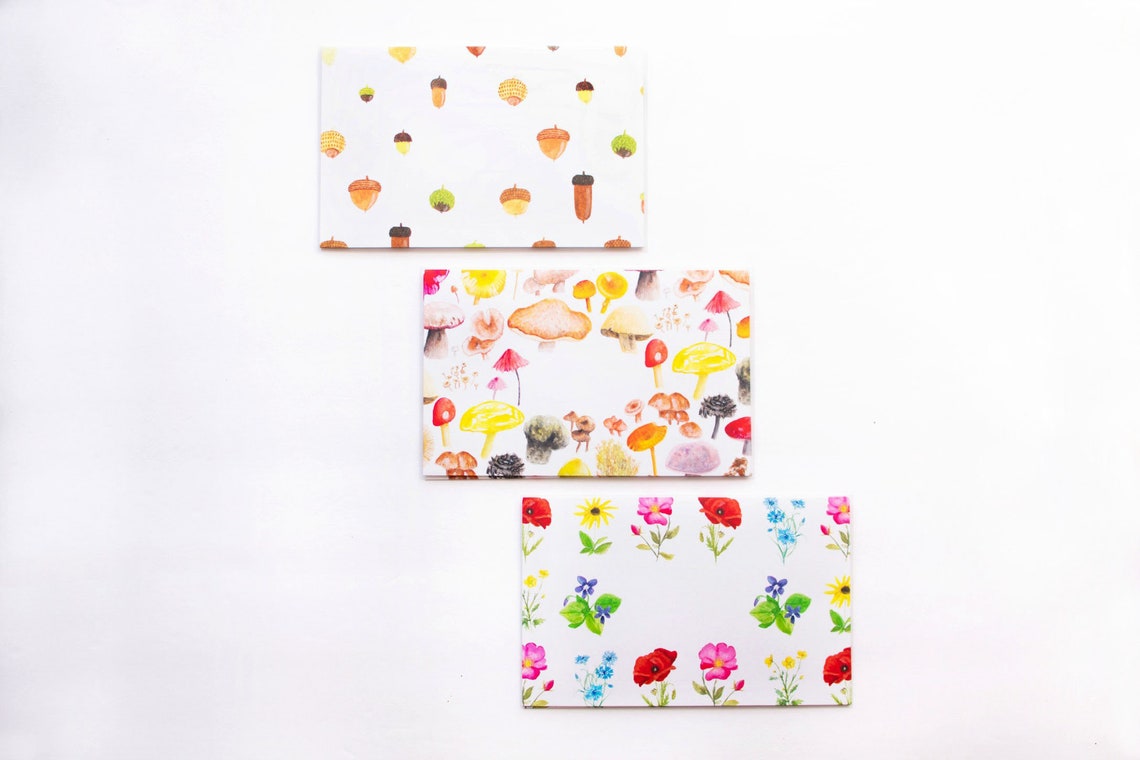 And that's all the art I have for you today, my friends! You can follow along @thecolorboxstudio on Instagram to see my art more regularly, including some bigger projects and commissions that don't quite fit in my sketchbook tours.
Do you have a favorite art piece from this post? Been making any art lately? Also, what's your favorite doughnut flavor? 😛
Thanks so much for reading, dears, and have a lovely day!
***Allison***