Hello, dears!
HOORAY, I'm so excited to present a small-business collab with several of my blogger friends! Aria and I have wanted to post business/entrepreneur tips for a while, and we've finally made it happen with the help of Megan, Hannah, and Clara! (Check the end of this post for links to their posts as well as some lovely coupons. ) We're not experts or anything, but we all own small businesses and want to help you start or improve yours with some tips we've learned along the way. 🙂
Today I'm going to introduce SEO and talk about long tail keywords, a tactic that has really helped me personally. I'll also touch on advertising and generally how to get more traffic to your shop. If you're a beginner – I promise I'll do my best to keep things clear and concise, and I'll also give you links to articles and posts where you can learn more if you want.
This post is geared toward Etsy shop owners or other online business entrepreneurs, but you can use some of these tips for blogging and social media as well.
This is going to be a LONG post, so feel free to skim if you need to and bookmark or pin this for future reference. Now, onwards!
SEO & Long Tail Keywords
What Is SEO & Why Should I Care?
SEO stands for Search Engine Optimization. It has to do with how high your product, site, post, etc. ranks on search engines. Good SEO can bring you to the top of search results, while poor SEO will put you at the bottom, which pretty much means you won't get found. (Because who goes past the first page of Google results anyway?)
Guys, SEO is a HUGE topic. It would take many posts to cover it all if I actually knew how to do so, which I don't. Instead, I'm just going to focus on one way to implement SEO that has really helped me: long tail keywords.
What Are Long Tail Keywords?
Long tail keywords are multi-word, specific terms used to describe a product. For example, "Bible verse art print." They are not generic terms like "decor" or even multiple-word but very broad phrases like "art print" or "gifts for her." You can use long tail keywords in the titles and tags of your blog posts, Etsy listings, etc.
Why should you use them? Well, say you used a non-long-tail keyword like "decor" as a tag on your listing. If you search "decor" on Etsy, it's going to bring up a HUGE amount of results – around 9,776,383, in fact! Your listing will probably be near the bottom unless 1) you're an established, popular shop, or 2) you've paid to advertise (more on that later).
Buyers might get to page 3 of 250 before they either find something they like and purchase it, or find nothing they like and try another search term. Either way, they won't get to see your listing. So… being on the last pages basically equals not being there at all.
How Do You Use Long Tail Keywords?
What can you do to be found? You can use less popular keywords. Sounds counter-intuitive, right? But if you tag your item with "geometric wall art printable" instead of simply "decor," not as many people will search for it, but many more people will find you. Let me give you an example.
Say that when you search "geometric wall art printable," only 20 listings pop up on Etsy. That's not realistic, but we'll use that for our example. Even if only thirty people search for that term instead of 50,000+ searching for a more popular keyword like "decor," those thirty people are more likely to see your listing since there's not as much competition for "geometric wall art printable" as there is for "decor." Does that make sense? Read it again if not, because that's perhaps the most important point in this post!
Long tail keywords are all about finding the sweet spot between a small amount of competition and a good amount of searches and engagement (people who actually click on your listing or buy it).
How Do You Find Long Tail Keywords?
This is the tricky part. Long tail keywords are hard to come up with. You have to find a balance between overused tags and tags that aren't used because no one searches for them.
Try writing down a couple of phrases you might use to describe your product to a friend. For instance, I might describe the artwork below as a "Bible verse art print," "scripture wall art" "Bible verse painting," and so on. Ta-daa! There you have some long tail keywords.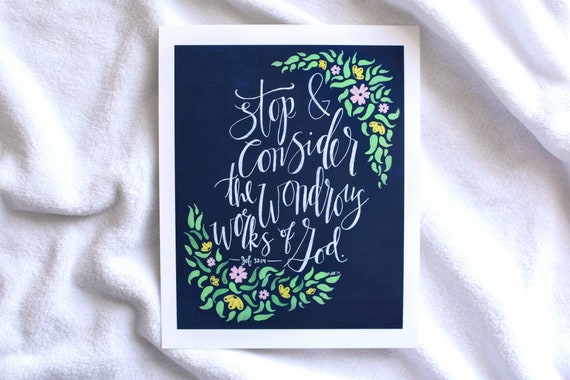 To take it further, try searching those keywords into Google and scrolling down to the "searches related to" part – you might find a bunch more long tail keywords just waiting for you!
The best tool I've found for generating long tail keywords is Marmalead. Marmalead is a user-friendly app/software that helps you find the best keywords for your listings, tells you if they're long tail and gives you alternate suggestions if they're not, and gives you data on TONS of other things like amount of searches, competition, and engagement for each term.
Sadly, you do have to pay $19/month (less if you get bigger plans), but I think it's worth it. Using Marmalead, all three of my envelope sets are on the first page for even several non-long-tail searches like "pen pal." And my envelopes just happen to be my most popular items, by far. It works, guys!
For further reading:
Advertising + Promotions
Advertising with Email
There are, of course, many avenues for paid advertising (more on that later), but you can also get a lot of traffic for free with email lists and social media!
Advertising with email is a great way to build a list of loyal customers who keep coming back. Since pretty much everyone checks their email regularly whether they have a social media account or not, sending newsletters and occasional updates can be a very effective marketing tactic. Build a list with social media (see section below), or by offering a "reward" for signing up – a free product, a coupon, exclusive content, or all three!
I personally haven't used email much as a marketing tactic, so I'll leave you guys with some links to learn more about it on your own.
For further reading:
Advertising with Social Media
Depending on your target audience, chances are that your followers will check their social media far more often than their email. If you're serious about your business, I recommend starting a social media account (Instagram especially) to promote your products and connect with potential customers.
You can pay to advertise with social media, or just make an account and grow followers + traffic that way. For me personally, focusing on my account and growing my followers has been more valuable than paying to advertise on social media. If you're up for spending money, I'd suggest advertising with Etsy (see next section) instead of Pinterest, Facebook, etc.
Social media is another huge topic, so I'll stop here and give you guys some links if you want to take it further. Also be sure to check out Clara's post (see bottom of this page for link) to see how to design your social media and make it cohesive with your brand!
Oh, and if you want to follow my Etsy shop's Instagram, I'd be delighted! My handle is @thecolorboxstudio.
For further reading:
Advertising with Etsy
As I mentioned earlier, I've found that advertising with Etsy was better than advertising with social media. Social media brought me traffic, but promoting listings on Etsy brought me sales as well!
One nice part of promoting listings with Etsy is that you can set a very low threshold (for instance, I won't pay more than $1.50 a day). Unfortunately you can't set a time limit, so you just have to check in on how much you've spent every now and then.
Not sure whether it's worth it? I recommend just trying it for a couple of days. You don't have to spend much at all! See the link below for an article to help you get started.
For further reading:
Sales & Coupons
Promotions like sales and coupons are great ways to grow your business. For maximum impact, share them on your social media account, email list, blog, etc. Spread the word!
I've recently started including coupons like this with physical orders as an incentive for my customers to buy again.
And now, a fun conclusion to this section: An enjoyable way to gain experience for your own business is to buy products from other shops. I did this when I was first putting out printables partly so I could get a feel for what my buyers would experience on the other end; it was really helpful! To that end, we are giving you guys coupons for our businesses in case you'd like to learn more tips first hand!
My coupon code is COLLAB25. Use it to get 25% off anything in my shop! Valid until 3/22/19 only.

For further reading:
***************
Whew, that was a lot of information, but I hope this post was helpful to you guys! If it was, I'd greatly appreciate it if you pinned this little guy so you can remember this information later and share it with others. 🙂
↓ PIN ME! ↓
Now, have fun learning more with the other posts in this collab! A good way to grow your business is to look at other businesses (like these girls') and analyze their design, photography, descriptions, tags, etc. Don't copy them, but do learn from them!
***************
Comment below if you have a small business of your own! And tell me…
Was this post helpful? Would you like to see more like it? What SEO, advertising, or other small business tips do you have? Have you read the other posts in this collab?
Thanks so much for reading, dears, and have a lovely day!
***Allison***
P. S. WOOHOO, we've reached 5,000+ followers! Keep a lookout for a super fun giveaway to celebrate!