Hello, dears!
Hurrah, I've finished a sketchbook! This one took me about five months to complete, so yeah… it's been a while since my last sketchbook tour. 😉 I practiced a lot of portraits and watercolor painting in here and made some pieces I'm really proud of as well as some pages I'm not so pleased with. XD And you guys get to see it all!
So. *rubs hands* Are you ready for some art inspiration?
Today I'll be showing you a few of my favorite pages from this sketchbook, plus a flip-through video and some of my recent art products. 🙂 Ready? Set, go!
A few of these will overlap with my last sketchbook post, when I had just started this book. I still think this mountain painting makes a lovely first page!
Left: watercolor vines like this are SO MUCH FUN to paint. Often you can use paint a leaf in one swish of your brush and ahh, it's so satisfying. XD
Right: I got tired of drawing the same perfectly pretty girls off of Pinterest, because no perfectly pretty girls exist in the real world – just imperfectly beautiful ones! So I tried to find more unique (and therefore normal) looking faces to sketch off of in this book. Sometimes I succeeded. XD
Practicing transparency with watercolors. 🙂 I love the delicate effects you can get by glazing light colors on top of each other!
Ahh, this is one of my favorite spreads in the sketchbook! I experimented a lot with colored pencil or pencil + watercolor, and love how it looks. I might add small, downloadable custom portraits to my Etsy shop eventually – would you guys be interested in this style for profile pictures, mini gifts, etc.?
Isn't this so fun? It's super duper simple; anyone can do it who has watercolors, a decent brush, and a pen.
Ooh, another pencil + watercolor portrait. I find this style relaxingly easy and fun to draw in, so I do it a lot.
I could paint galaxies all day. :'D It's mesmerizing to watch the colors blend together and the salt create intricate patterns in wet watercolor.
I'm pretty proud of this one, especially the leaf at the bottom of the page. I should do more observational paintings like these; they're great practice!
One of my art class lessons got kinda messed up later on by the marker drawing on the other side, but the colors are still pretty. 🙂
Another portrait that was super fun to make. I pretty much collected purple and blue markers and kept adding details until I was satisfied. 😛
Another example piece for art class (there are a lot of those in here XD) which turned out lovely! Watercolor is so versatile and fun to use, ahh.
The last portrait for a little while, and another of my favorite pages. I love this style and she turned out so cute! *pats character on the head*
Hee hee, a Christmas art lesson. I rarely draw in a cartoony style, but then again, my style is basically ALL styles, so I decided to experiment. 😉
I painted a little concept piece here for the calendar page I showed you guys in this post. It's most definitely not perfect, but I kind of like the whimsy those imperfections add.
Ooh, exciting things: I painted these next two spreads to use in designing my friend Aria's stationery! I am EXTREMELY excited for her wedding (and to be IN her wedding), and it's been such an honor to design her invitations, etc.
There's something nice about a page of different but connected elements like this, isn't there? I love how the anemones turned out especially; they've featured heavily in the stationery so far. 😉
I made this pattern using leftover paint in my palette when I was trying to clean it one day. Gouache is maybe my second favorite medium; it's similar to watercolor, but more opaque, like acrylic, thus lending itself to flat, graphic patterns like the one below.
Another page that got smudged by the next piece… Anyway, I made these cute little guys, again, out of leftover paint. They make me smile. 🙂
Aha! I got new Arteza gouache here and had fun playing around with it at Christmas. It's definitely much higher quality than my old stuff.
This painting was inspired by makoccino's lovely tutorial here on YouTube. If you're interested in watercolor, especially if you're a beginner, go check out her beautiful channel!
Back to portraits. 😀 I rarely draw guys or hands, so I decided to practice both. I quite like how they turned out!
Aww, it's a cute little snowman! *glares at un-snowy sky* We got a few flurries yesterday, but they immediately melted. Maybe it will be a snowless winter…
What a comforting verse. ❤ I really enjoy lettering with pen and watercolor like this.
I don't like all the sketches on here, but I like the spread as a whole because it shows so much variety and, well, realness! Some drawings turn out like you wanted them to, and some don't. *shrugs*
I finished the sketchbook with another of my favorites. I felt like painting small details that day, so I chose a reference photo of a cute bird with lots of tiny feathers. Isn't it so squishable? XD
Now that you've seen the highlights close up, here's a flip-through of my entire sketchbook! Except the first two or three pages, because I didn't cover up the address label and then I accidentally skipped the spread with watercolor vines. *facepalm* Be prepared for a bunch of repeat paintings, since I used this sketchbook to plan art classes and sometimes to paint along with my students as well.
Lastly, I always like to do a mini Etsy-update on my art posts, so here goes! I recently added a "sampler" envelope listing so you can try out ten different envelope designs in one set instead of just three. Click here to see all the designs. I think the flower field ones are my favorite. *heart eyes*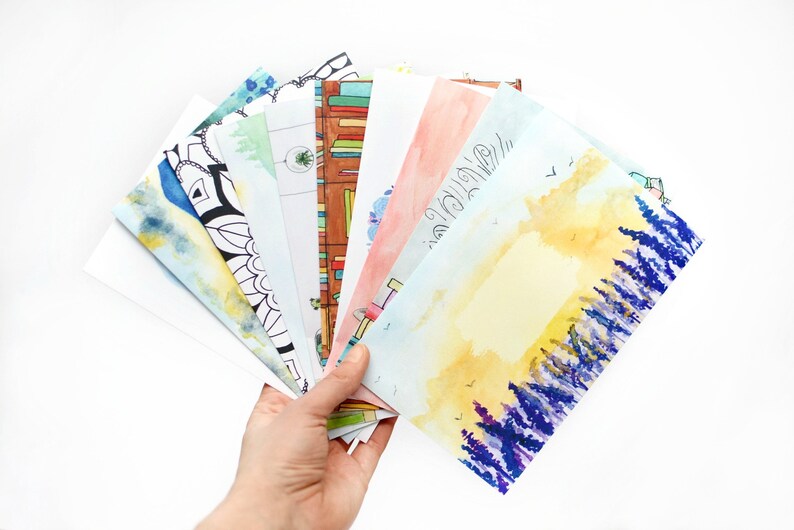 Did I show these on my blog before? I forget. Oops. Anyway, I'm so pleased at how these verse cards turned out, and have one of the purple ones displayed in my studio at the moment. 🙂 (Also I love this photo, heh.) Click here to see more details.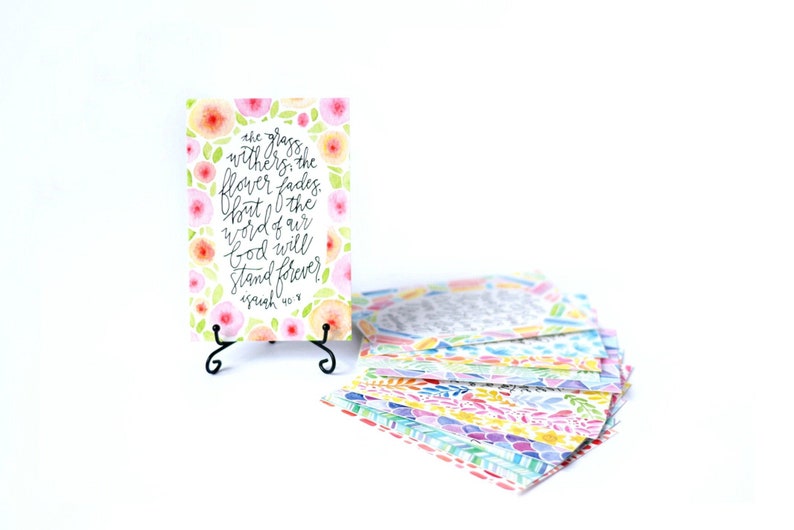 I also JUST added the first stickers to my shop and ahh, I'm so excited! I absolutely love how these little guys turned out and kind of want to stick them on everything. XD I ordered prints of my elephant drawing from Sticker Mule, a company that makes super durable, weatherproof, and dishwasher safe (!) vinyl stickers. Click here to check out my elephants. 🙂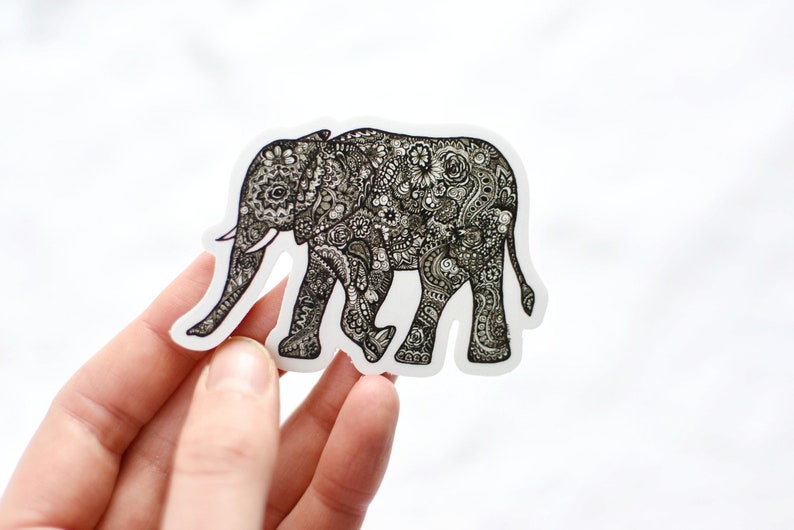 And there we go! That's my sketchbook tour for the day. I hope this collection of art inspired you as art posts always do for me! If you'd like more inspiration, follow me on Instagram @thecolorboxstudio, or check out my Etsy shop here. And before you leave, I'd love to know…
Which piece of art was your favorite? Have you made an art post recently? (Link it down below and I'll check it out!) What sticker should I make next?
Thanks so much for reading, dears, and have a lovely day!
***Allison***